Club History
Shooters Hill as a place has a long history. The name 'Shooters' is derived from the time archers practised on the site hundreds of years before golf was played, and Shooters Hill provided excellent cover for Highwaymen. Thinking laterally, you could say that the golf course provides a modern day target and there are (it is said) quite a few 'Bandits' in the Club.
Golf was first played here in 1903 when a 3 hole course was opened. In 1907 a full 18 hole course was laid out by Willie Park and the freehold of the land was purchased several years later, with the mansion of Lowood and some 25 additional acres being purchased in 1924. The course was then completely remodelled in the 1930's by Messrs Harris and Colt & to this day presents a first Class test of golfing ability.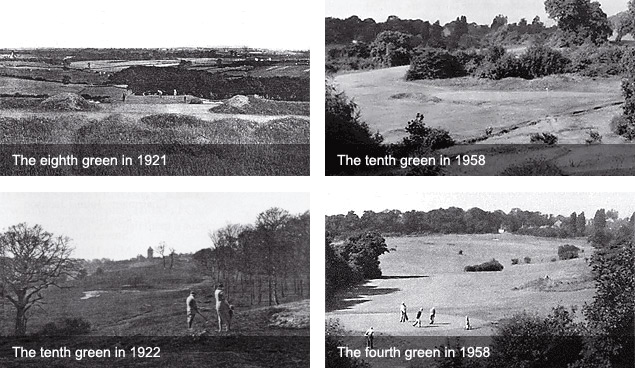 The War
In 1939, the southernmost 9 holes of the course were requisitioned for the establishment of an anti-aircraft battery and part of the Clubhouse became the headquarters of the Home Guard, and in the latter years part of the course also became a Prisoner of War camp for some 1000 German and Italian prisoners. The camp was surrounded by a 7ft high wire fence, and the cookhouse situated by the 17th green. The remaining 9 holes continued to be played even though the course sustained considerable damage from bombing.
Exhibition Match 1951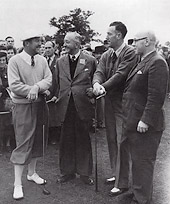 After the war years the course and Clubhouse facilities were improved, thanks largely to the supreme efforts of the then Secretary Mr. A G Walls, and the whole course re-opened for play in 1951. The big match of that year was an exhibition played by Bobby Locke and Alf Padgham, when Bobby Locke set a course record of 65.
Ernest Vaux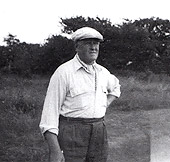 Ernest Vaux The Club Professional during these early years was Ernest Vaux, a Yorkshireman who migrated to the south in 1920, when he became assistant to his brother Arthur at the Bromley and Bickley Club. After a short period at the Bellingham Club he joined Shooters Hill in 1926. Ernest remained in charge at Shooters Hill for 38 years and two years later in 1966 the Club held a Professional Golf Tournament in aid of Ernest's Testimonial Fund. Amongst the players were: Harry Weetman, Christie O'Connor, Roger Fidler, Tommy Horton and Neil Coles, to name but a few. The Tournament was a great success and the winners purse was a "stunning" £125.00!
The Future
The course has continued to thrive and many of our visitors are surprised to find such a course only 8 miles from London Bridge. Major conurbations such as Canary Wharf and Woolwich are not far away - all in all a little gem.